Results of the inDemand co-creation and business support | 1st iteration
Dic 04, 2019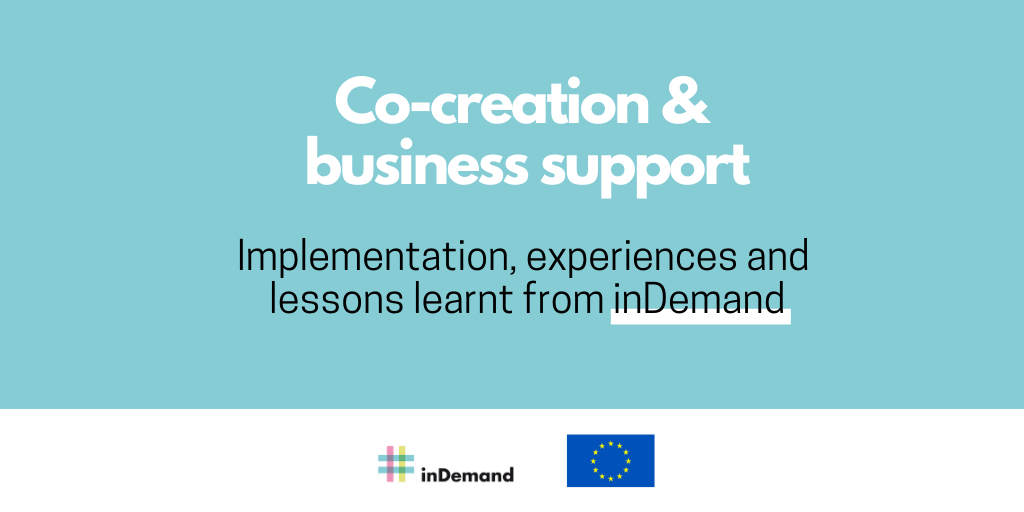 EXECUTIVE SUMMARY
This co-creation and business support report is a practical, hands-on description including a qualitative analysis of the first implementation of inDemand model Phase 3 in Murcia, Oulu and Paris pilot regions from September 2017 until March 2019. The report also includes examples of how regional Partners (Challenger, Solver, Supporter, and Funder) have collaborated during the first iteration.
Phase 3 methodology includes the following steps:
Preparation
Management of co-creation
Management of business support
Evaluation and payment
Assessment
After the first iteration of the inDemand model implementation, the six key findings are:
1) Phase 3 methodology include pragmatic and concrete processes, tools, and working methods in planning, managing and leading complex projects in the coupled open innovation context.
2) Minor regional variations indicate positive recommendations for the replicability of the model. Public healthcare organisations and the Innovation Management Units have received a tool in the form of inDemand model to develop their Innovation Management processes and practices, to provide bottom-up healthcare professionals a possibility to address their needs and a meaningful way to develop solutions together with companies. These elements give the healthcare professionals opportunity factually influence what kind of new solutions will be built and ultimately take into use to enhance the digital transformation in healthcare.
3) Companies appreciate and understand the inDemand model and the roles of each Regional Partner.
4) Companies report that developing solutions side by side with the field professionals help them to keep the focus on the most important aspects when developing new products and services to the complex healthcare market.
5) Companies have received new potential business opportunities.
6) There has been good use and usefulness of the materials that have been prepared for Phase 3.
Read the full report to learn more about the implementation, experiences and lessons learnt to adapt the inDemand model implementation into specific regional setting.