«Digital innovation in health offers a huge growing potential»
Abr 19, 2018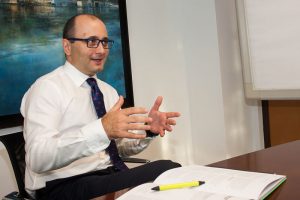 Will digital transformation modify healthcare services as we know them today? Yes, it will. This is the opinion of Joaquín Gómez, director of Instituto de Fomento (INFO), the funder organisation from the Region of Murcia.
Mr. Gómez stands out for being an innovative professional. Well, he's more than that: he's a breakthrough guy. Along this interview we have been discussing with him about the importance of innovation and how to bridge the gap between healthcare professionals and startups.
Want to stay tuned on the latest trends in digital health? We recommend you then to read the following interview.
Your full commitment to innovation has been a constant along your professional career. Why digital innovation?  
Digital transformation is already changing the world as we know it – also the way we relate to one another. Every day, more than 3,000 million people are connected on the Internet around the world. It has been estimated that the data traffic has increased tenfold in less than two years. Currently, there are intelligent fridges interacting with our smartphones, driverless cars, clothes and furniture that check our vital activity, 3D tools and mix reality improving surgery procedures, and so on.

Robotization, big data and the Internet of Things are here to stay. Companies better react fast and take advantage of all the related opportunities from this evolution. Therefore, the question that companies should answer is not 'innovation yes or no', but rather 'which strategy am I going to adopt to apply innovation and ride the tide of digital transformation?'
Innovation offers important advantages that companies shouldn't miss – both quantitative and qualitative. Let's focus first on the quantitative one. Companies investing in innovation could increase productivity up to 30% and double their internationalisation capacity. This fact has such a strong impact on job generation, including high quality and more stable jobs thanks to the knowledge economy.
On the qualitative side, the companies integrating innovation as part of their DNA would receive higher commitment and satisfaction from their workers. Besides, as it's happening at inDemand, innovation impacts society in terms of better services and products – in this case, better healthcare assistance.
INFO has launched a competitive call for companies under inDemand's umbrella. What are the advantages of this typology of calls?
INFO stands up for innovative Small and Medium companies. Their added value makes the difference and they are definitely the most powerful engine for the digital health growth! That's why we are part of projects like inDemand: We facilitate the development of innovative digital health solutions while generating real business opportunities.
We are now pioneering the implementation of a new typology of RDI call. What is new is that we are incorporating the demand-side to the equation, that means, the companies' potential client. Beyond the traditional approach focused on the supply-side, healthcare professionals and healthcare organisations have the leading role at inDemand calls: they decide what their unmet needs are and they also have an active role during all the co-creation process.
Over and above, what we are doing by choosing the competitive call typology is to prioritize the good quality of the proposals and how effectively they adapt to the healthcare challenges previously identified. All the proposals will be evaluated at the same time and following the same criteria.
What is inDemand added value for companies?
All inDemand values lead to one same goal: the digital health solutions will have more success rate in the market. This is by far one of the greatest added values that a company could wish for.
On the one hand, inDemand poses different challenges which have been defined by healthcare professionals. The demand-side is already saying what its needs are – first important factor for a digital company.
On the other hand, we have the co-creation approach. The selected companies will be working side by side along the whole process with healthcare professionals – in other words, their clients. No more acting blindly and following your intuition; the developers will have a fluid feedback.
Better still, the resultant digital health solutions will be tested at the healthcare organisations – a priceless opportunity to continue the product validation process and a strong selling argument for further commercialisation.
You have expressed your interest on extending inDemand co-creation model into other fields. What are your expectations?
The digital transformation of the industry is one of our standards in the Region of Murcia. We are already innovative and want to take innovation to the next level. That's the reason why it's strategical for us to feed the Industry 4.0 ecosystem, in order to reach the highest competitiveness degree.
Among the inDemand strengths -apart from the above mentioned collaboration between demand and supply-, knowledge transfer stands out. This model generates synergies and technology exchanges, which would also have a very positive impact on other strategic sectors for the Region of Murcia, like tourism, agri-food and industry.
Why do you think digital health is an opportunity for society and for the Region of Murcia?
It's blatantly obvious that digital transformation will end up impacting all fields. Also including health. 1,700 million people in the world have used at some point healthcare related apps on their smartphones, according to the European Commission. It's estimated that by 2020 this sector will reach a business volume of around 25,000 million euros.
Those companies capable of understanding the real needs from patients and healthcare professionals, and even from the healthcare public system, will find a market with a huge growing potential.
The Region of Murcia is an example of those companies highly innovative, which have surged around the European Business and Innovation Centers in Murcia and Cartagena (CEEIM y CEEIC). For instance, Voptica, Neosistech or Flecho are developing leading digital health solutions.
---