inDemand Community | Navarra announces 4 solvers to its healthcare challenges
Oct 22, 2020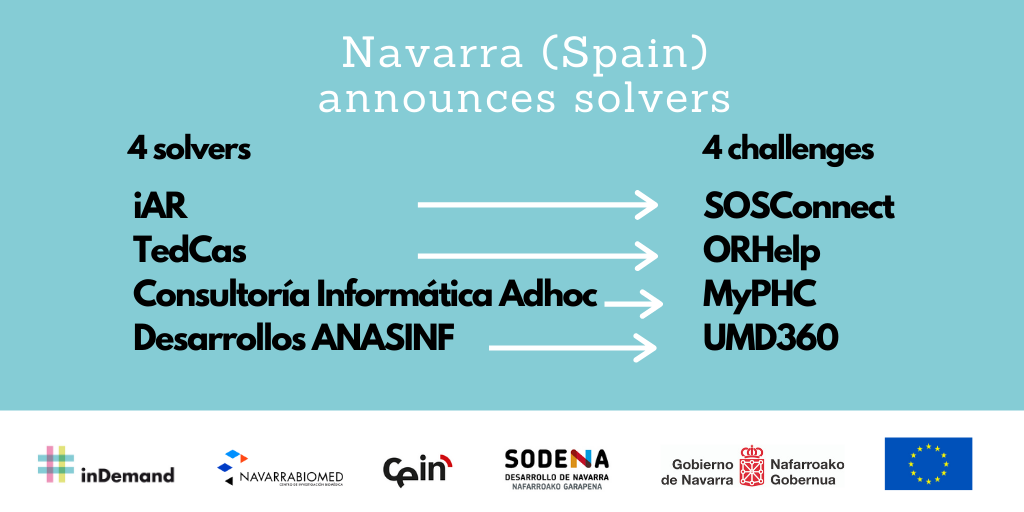 Navarra, one of the twelve european regions of the inDemand Community, has just selected the four companies who will act as solvers to its healthcare challenges. iAR, Consultoría Informática Adhoc, TedCas and Desarrollos ANASINF will co-create hand by hand with healthcare professionals innovative digital health solutions, following the inDemand model. Projects will receive €108,104 funding from Region of Navarra's General Direction of Innovation, within the Department of University, Innovation and Digital Transformation.
Meet the 4 solvers
Industrial Augmented Reality (iAR), company specialized in the development of custom industrial software, using advanced technologies such as augmented reality and artificial vision, will develop ConectaSOS (SOSConnect). This challenge consists of developing a new app setting up a new communication channel and protocol improving the time response and the transfer of critical information and data for the urgent transportation of emergency patients involving three key agents: medical ambulances, emergency coordination call center (SOS Navarra) and the hospital's Emergency Room's triage services. iAR's CEO Jon Navarlaz and his team will co-create this innovative solution alongside Fermina Beramendi, Doctor of the Outpatient Emergency Service.
Consultoría Informática Adhoc, specialized in software solutions and implementation of customized systems, will set up MiCentro (MyPHC). This solution stands as a new communication channel for Primary Health Care Centres (PHC), based upon SMS (Short Messaging Services, to better outreach their patients. This will allow both wide and targeted communication campaigns for the dissemination of information about changes in PHC (timetables, available staff, procedures), new health campaigns, health alerts, and the reminder and/or reassignment of any kind of medical appointments. David Santamaría and his team at Consultoría Informática Adhoc will co-create this communication channel with Sergio Chivite, Technicien at Region of Navarra's Support Service for Clinical Management and Care Continuity of the Primary Care Management.
QuiroHelp (ORHelp) challenge will be solved by TedCas Medical Systems, healthcare technology provider specialized in touch-free, natural user interfaces based on optoelectronic devices. This solution consists of a chatbot service available by Surgical or Operating Room (OR) Nurses both at the ORs and their smartphones, that will improve their time response and efficiency in the preparation and delivery of their tasks, thanks to an easy and rapid access to protocols, surgical practices, and information about the location of the required instruments and materials for a given intervention. TedCas' CEO Jesús Miguel Pérez and his team will co-create this solution with Nurse Diana Morcilla coordinating the medical staff involved in the project.
The fourth solver is Desarrollos ANASINF, a company specialized in customized software solutions. They will develop the app UMD360, a tool to empower more than 200 gynaecological cancer patients managed by the Multidisciplinary Unit of Gynaecologial Cancer, a wide team of medical and nursing professionals from different disciplines. This new app will provide patients easy to access, comprehensive, and relatable information about their diagnostics, treatment protocols, and adverse effects to treatments and will open a new communication channel between patients and their appointed health care managers. Ainhoa Castellano, ANASINF's Development Manager, will coordinate this project along with Juan Carlos Muruzábal, Chief of the Obstetrics and Gynecology Service of the CHN (Region of Navarra's Hospital Centre).
---
Thank you very much to all the companies that have participated!
Congratulations to the winners. Now it's co-creation time!
***
WANT TO KEEP UPDATED? →REGISTER NOW & RECEIVE OUR NEWSLETTER ← (Promise, we don't spam!)