Navarra (Spain) launches a call for companies to solve its healthcare challenges | inDemand Community
Jul 23, 2020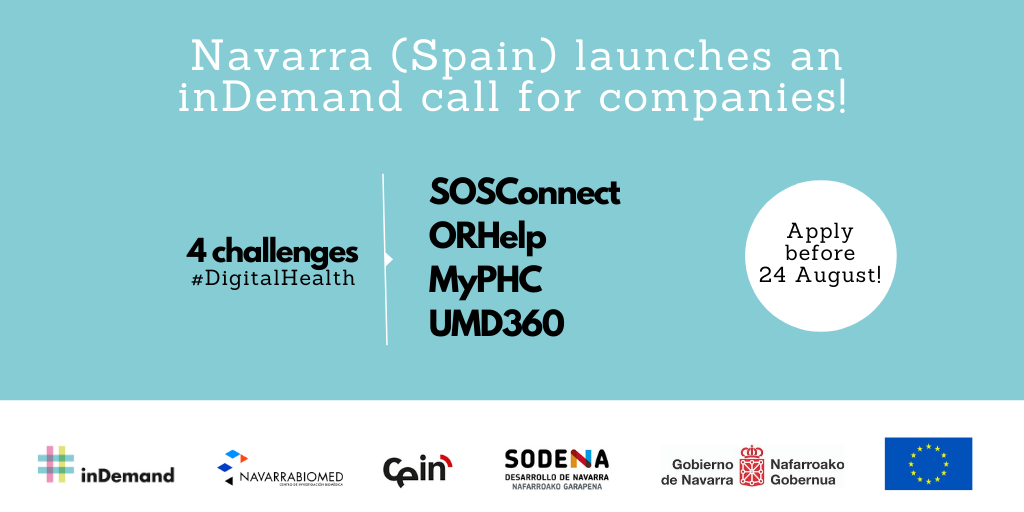 Navarra, as a member of the inDemand Community, has launched a call for digital health companies. Following the inDemand model, the Region of Navarra has detected 4 healthcare challenges to be solved by technology. The selected companies will have the opportunity to co-create the solutions hand by hand with healthcare professionals and will receive funding – up to € 30,000.
Open call at a glance:
Application deadline: 24 August 2020 

Economic support: Up to € 30,000 for each challenge. The same company can be the beneficiary of more than one challenge. 

Only companies based in Navarra (Spain) can apply. 
The four challenges:
ConectaSOS (SOSConnect): Development of a new app setting up a new communication channel and protocol improving the time response and the transfer of critical information and data for the urgent transportation of emergency patients involving three key agents: medical ambulances, emergency coordination call center (SOS Navarra) and the hospital's Emergency Room's triage services.
QuiroHelp (ORHelp): A chatbot service available by Surgical or Operating Room (OR) Nurses both at the ORs and their smartphones, that will improve their time response and efficiency in the preparation and delivery of their tasks, thanks to an easy and rapid access to protocols, surgical practices, and information about the location of the required instruments and materials for a given intervention.
MiCentro (MyPHC): A new communication channel for Primary Health Care Centres (PHC) is proposed, in order to better outreach their patients, based upon a widely adopted technology (SMS-Short Messaging Services). This will allow both wide and targeted communication campaigns for the dissemination of information about changes in PHC (timetables, available staff, procedures), new health campaigns, health alerts, and the reminder and/or reassignment of any kind of medical appointments.
UMD360 (UMD360): A new tool will empower more than 200 gynaecological cancer patients managed by the Multidisciplinary Unit of Gynaecologial Cancer, a wide team of medical and nursing professionals from different disciplines providing an integrated response and care to these patients' needs. The app will provide patients easy to access, comprehensive, and relatable information about their diagnostics, treatment protocols, and adverse effects to treatments and will open a new communication channel between patients and their appointed health care managers.
→DETAILS & APPLICATION HERE (in Spanish)←
For more information, you can have a look at the Guide for Participation or contact the Navarra Region in the email: sinai@navarra.es 
Navarra: who is who
Challenger: Regional Departement of Health
The Department of Health leads the Public Health Care System in Navarre. The general principles that Navarrese Health Care System (NHS) is based on are: universal coverage with free access to health care for all citizens; public financing, mainly through general taxation; integration of different health service networks under the NHS structure; region-based organization of health services into health areas and basic health zones; and a model of primary health care, emphasizing integration of  promotion, prevention and rehabilitation activities at this level.
Funder: General Direction of Innovation
The General Direction of Innovation, within the Department of University, Innovation and Digital Transformation, promotes the Research & Innovation efforts by companies and research centers by the management of project and operational grants and the support of research staff  mobility between research and industry.
Supporter: Sodena and CEIN
The supporters are Sodena, the Regional Agency for Business Development in Navarra, which attracts and develops value-added business projects and foster the creation of quality employment, and CEIN, the Navarran European Business Innovation Centre, which contributes to local economic development by promoting the creation of innovative SMEs and offering business support.
***
WANT TO KEEP UPDATED? →REGISTER NOW & RECEIVE OUR NEWSLETTER ← (Promise, we don't spam!)