East Netherlands launches a call for companies to solve its healthcare challenges | inDemand Community
Dic 09, 2019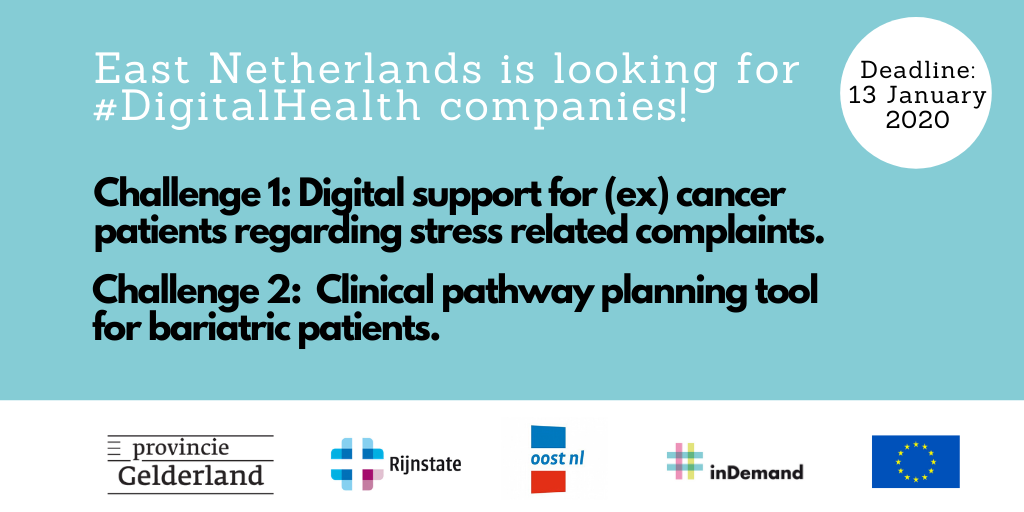 East Netherlands, as a member of the inDemand Community, has launched a call for digital health companies. Following the inDemand model, the Region of East Netherlands has detected 2 healthcare challenges to be solved by technology. The selected companies will have the opportunity to co-create the solutions hand by hand with healthcare professionals and will receive funding – € 17,500.
Open call at a glance:
Application deadline: 13th January 2020

Economic support: € 17,500 (VAT excluded) for each challenge.

Language: Application forms can only be filled in English or Dutch.

Working language during the co-creation will be in Dutch.
The two challenges:
Challenge 1: Digital support for (ex) cancer patients regarding stress related complaints
Many (ex) cancer patients experience a wide variety of complaints. In the period after they have finished their clinical pathway, they often deal with this on their own and it can greatly impair their quality of life. Rijnstate is looking for a way to help (ex) cancer patients to recognize, identify and guide them in case of stress related complaints.
[Download pdf & see the details]
Challenge 2: Clinical pathway planning tool for bariatric patients
Planning of the clinical pathway for patient undergoing bariatric surgery is a very time-consuming, complex process which is prone to errors and where several stakeholders are involved working for different organization. Rijnstate is looking for a tool to help planning a clear clinical pathway for a patient undergoing bariatric surgery providing a better patient journey.
[Download pdf & see the details]
East Netherlands: who is who
Challenger: Rijnstate
It's one of the larger top clinical hospitals in The Netherlands and has a service area of around 460.000 inhabitants, 700 beds and 4500 employees, 300 medical specialists and 400 volunteers.
Funder: The province of Gelderland
Just like the other Dutch provinces, the province of Gelderland has its own administration. The provincial government has its seat at Arnhem, which is also the capital of the province. From there the province carries out its core duties and in doing so occupies an intermediate position between national government and local municipalities. Gelderland is active in Europe and Europe is active in Gelderland. One cannot exist without the other.
Supporter: OostNL (The East Netherlands Development Agency)
This agency focuses its activities and projects on strengthening and stimulating the economy of the provinces of Gelderland and Overijssel in the Netherlands.
***
WANT TO KEEP UPDATED? →REGISTER NOW & RECEIVE OUR NEWSLETTER ← (Promise, we don't spam!)